Why More Homeowners in NC are Switching to Wireless Cameras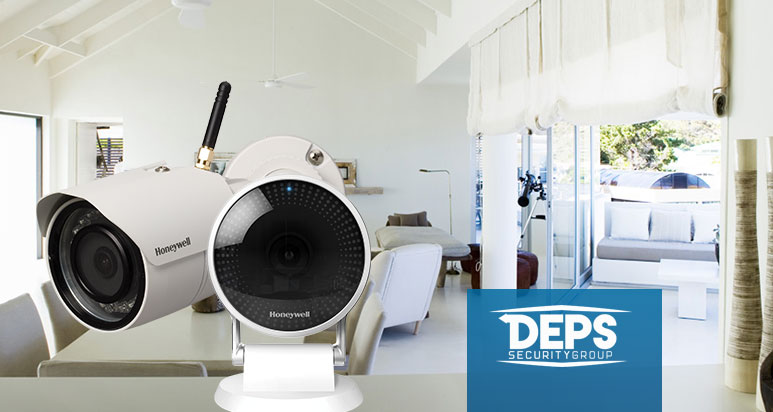 Latest posts by Tom Vermillion
(see all)
It is hard to believe just how wireless our society has become. Knowing that a huge segment of today's society has never used or seen a rotary phone, and some have never had anything but a cell phone. It seems like everything has gone wireless, including home security systems. While sometimes it is hard to see new things take the forefront, wireless home security camera systems have some tremendous advantages that will make you want to cut the wires.
The biggest advantage of wireless security camera systems is that they are, of course, wire-free. So, that may be obvious, but what does it mean in a practical sense?
More Installation Options
Wired systems depend on being physically connected. This means that they can encounter physical barriers that make it difficult or impossible to install in certain areas. Wireless camera systems do not have this problem and can be placed anywhere within the system area.
Faster Installation
Wireless camera installation is much simpler than for wired cameras, which can require making holes in the wall and managing all of the lines or wires. Easier and faster installation means very little mess and disruption to your day.
Get Instant Alerts
With traditional wired surveillance systems, you have to wait to review the recorded tape to see if anything went wrong. With wireless security cameras, you can get an alert the moment motion triggers them. The alert goes directly to your smartphone, tablet, or desktop so you can instantly evaluate the situation and decide if it needs your attention or that of law enforcement. It is also far easier to find the recorded event and can go right to it, rather than have to view hours of unrelated and uneventful images. It is also useful in daily, practical living, too! Instant alerts let you see video of kids arriving safely home from school.
View Live Video Feeds
Another advantage to wireless security camera technology is the ability to view live feed, any time and from anywhere. From your smart device, you can tap into individual cameras to view live feed so you can ensure teens or seniors are safe, or monitor caregivers. Any time you like, you can check in on pets or check the status of the home for added peace of mind. You can also check outdoor camera feeds to monitor anyone lurking around the property or check on any suspicious activity.
That means you can check in on the home, valuables, family, or pets any time right from your phone to make sure everything is okay.
Introducing The Honeywell Total Connect Next Generation Outdoor Camera
The Honeywell Total Connect IPCAM-WOC1 HD Wi- Fi Outdoor Video Camera offers 1080p resolution at 30 frames per second, wide-angle view and up to four motion detection areas.  The picture quality is superb, so you know you've not only captured the security incident, but more importantly, you can see it clearly on playback. The camera's night vision is also extremely sharp, ensuring night time incidents are visible in detail as well.
The camera also comes with a choice of either 7 or 30-day extended cloud video storage, so even if you can't view the video right away, for example, if an incident occurs while you're on vacation, you can still look back on those events later.
Even better… the IPCAM-WOC1 integrates with other professionally installed Honeywell home security products, including the IPCAM-WIC1 and IPCAM-WIC2 indoor cameras, as well as alarm systems panels, home automation accessories and the Honeywell Total Connect app.
Get In Touch with DEPS Today
Bad guys in the movies always seem to know how to cut the telephone wire to disable a home's alarm system. However, with new state-of-the-art technology, you no longer need to worry about whether help will come if your phone line isn't working.
Our headquarters are located in Kinston, NC, approximately 75 miles east of Raleigh. In 2006, we expanded our operation by purchasing ORR Security in Jacksonville, which increased our service area in a manner that allowed us to better serve the entire Coastal Plain region. Additionally, DEPS 24/7 alarm monitoring services are provided by a UL listed, locally based central station, so you can be assured that our agents are familiar with the area.
In short, we have a heart for the communities of Down East North Carolina, and aim to help protect them with our superior products and services.