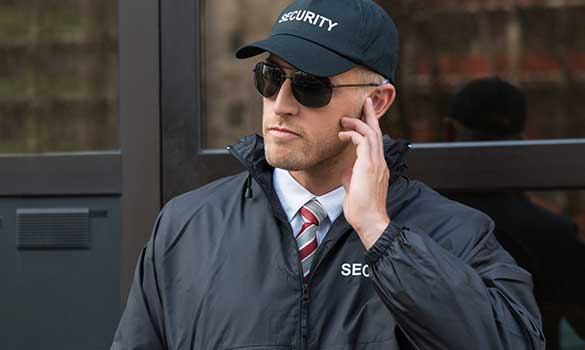 DEPS Safety & Security offers both armed and unarmed security guard services. Available 24/7, you will find our carefully recruited security officers to be professional, responsive, and reliable. We will work with you to determine the appropriate level of protection, understanding that each client's situation is unique and can change at any time.
Carefully screened and rigorously trained, all of our security officers must pass a background investigation that includes criminal record checks and drug screening. They must be of sound character, demonstrate good judgement, and present a neat and professional appearance. All unarmed security guards are licensed by the NC Private Protective Services Boards.
We hold our armed security officers to the highest level of standards. These officers must possess a minimum of two years security experience and successfully complete a firearms re-qualification program annually. They are also required to demonstrate knowledge of their legal authority and the limitations of an armed security officer. Training meets or exceeds requirements established by the State of North Carolina and the NC Private Protective Services Board.
Their duties on behalf of clients typically include:
Safe-guarding the personnel, guests, visitors, and property
Conducting roving and stationary tours
Communicating with and providing assistance to the public
Monitoring closed circuit TV
Preparing reports and daily logs
Rendering assistance as necessary
"Tands, Inc./Bojangles' has been working with DEPS Security Group for several years. Tom Vermillion, Greg Smith, and their teams have always been very responsive to our security requests, and proactive in identifying opportunities for improvement within our security systems.
We currently have over 400 Mobotix Cameras, and have experienced excellent results in regards to mechanics, audio, and video. In addition, DEPS has aided us in multiple internal and external investigations, provided guard service, as well as assisted with Human Resources issues. We highly recommend DEPS Security Group for any security needs your company may have."

Jeff McKimmie
Bojangles Restaurants