Staying Connected to Aging Loved Ones with Security Technology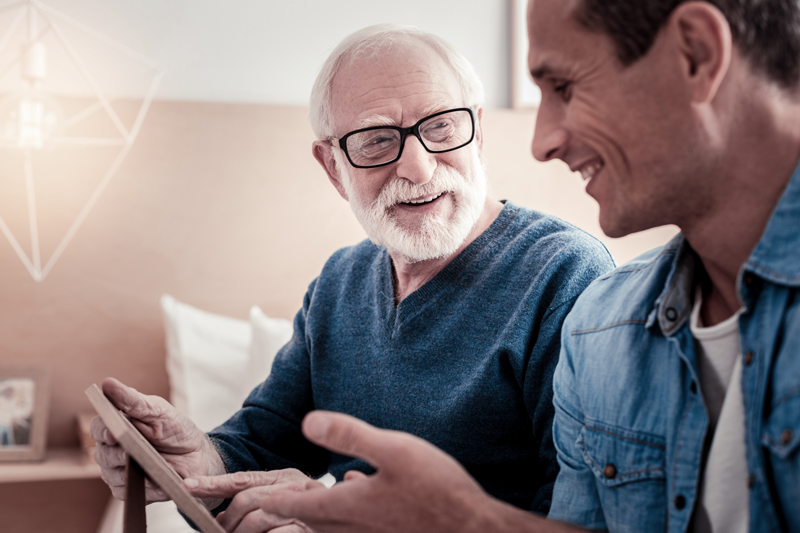 Latest posts by Tom Vermillion
(see all)
It's the time of year when we celebrate fathers and other loved ones who looked after our safety and wellbeing as we grew up. As they become more vulnerable with aging, we are now tasked with caring for them. Fortunately, there is home security technology that can help. It's the Wellness suite, which is comprised of products and services available to you right here at DEPS Security Systems.
Wellness is perfect for adult children and grandchildren who are unable to be by parents or grandparents side during this time of heightened health concerns. It's like being able to sit with them in their living room to watch over their safety any time of day.
Staying Connected with the Wellcam
The Wellness suite features the Wellcam, which is a dedicated security camera with two-way audio to help family members communicate seamlessly. The Wellcam is not limited to one or two family members; up to 10 people can access the account to check in. Kids, grandkids and other loved ones can log in and check on Dad or Grandpa or speak to him through the Wellcam. And with an easy-to-use mobile app, checking in is even easier.
Benefits of the Wellness Suite
The Wellness suite includes features such as:
On-demand video visits with your loved one
Notifications when uncommon activity is detected
A recap of the day's captured images
A connected medication box that notifies you when meds aren't taken
Bed and chair sensors to alert you of prolonged inactivity
A callout button for your loved one to reach help anytime
Unlike a traditional personal emergency response system, Wellness does not require wearing a bracelet or pendant. That means more freedom, less embarrassment for your independently living loved one.
To learn more about Wellness, Wellcam and other home security technology to help you stay closer to your dad, grandpa or another beloved family member, call DEPS Security Systems. We look forward to showing you what's possible.
About DEPS Security Systems
Thomas Vermillion founded Down East Protection Systems in 2000 to increase the company's offerings after decades of providing quality monitored fire and burglar alarm products. The company's mission is "to provide peace of mind by protecting people and property with competence and compassion." They strive every day to offer the best and most innovative products and services to customers in Eastern North Carolina. www.depssecuritygroup.com